Group Swim Lessons are held in our year-round heated pools located outdoors!
Confident Kids, Strong Swimmers
Knowing how to swim is a life-saving skill that opens up a vast array of opportunities to stay fit, develop self-confidence, build relationships and safely enjoy outdoor aquatic activities like snorkeling, surfing, river rafting and more! 
Group Lesson Pricing:
Mon/Weds (2x/Week): $192/Members, $219/Non-Members
Tues/Thurs (2x/Week): $213/Members, $243/Non-Members
Sat (1x/Week): $108/Members, $123/Non-Members
Lesson Selection:
Use the charts and graphics below to select the proper Lesson Stage for your children.
6 Mo. - 3 Years: Parent/Child (Stages A-B)
3 - 5 Years: Preschool (Stages 1-4)
5 - 12 Years: School Age (Stages 1-6)
13+ Years: Teens & Adults (Stages 1-6)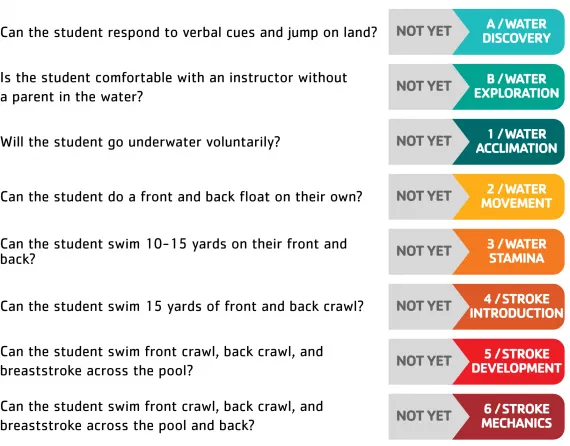 Lesson Stage Descriptions:
For detailed Lesson Stage Descriptions, please visit this page.
Swim Lesson Accomodations:
The Y considers the individual needs of every person and the ability of the program to meet those needs. Please inform the Y staff member during the enrollment process if you or a family member requires any special accommodation. This information enables the Y to better meet your needs or those of a family member, within available resources and to the extent reasonable. All staff that will be working with you or a family member with special needs will be informed of how to care for or meet those needs.
---
What should I expect for our First Day of lessons?
What to bring to lessons?​
A family-friendly swimsuit

A towel

Sandals or flip-flops

Goggles are recommended.

Persons wearing diapers need to have a plastic swim diaper with a tight-fitting protective covering.
Arriving for swim lessons. 
Plan to arrive with enough time to be ready for lessons.

A rinsing shower is required before entering the pool.

Using the restroom before entering the pool is encouraged
On the first day of lessons
If you or your child has a fear of water, or is feeling exceptionally nervous, please arrive a little early to inform the instructor so he/she can accommodate your needs to ensure you feel comfortable.

Check in at the front desk and proceed to the pool deck through the appropriate locker room.

Children over the age of 5 are required to use the appropriate gender locker room.
Other expectations
Please have a seat in our spectator area located behind the Lifeguard stand.

Spray sunscreen application is not permitted on the pool deck. Please apply spray sunscreen outside the facility, prior to coming to lessons.

Please do not stand or linger in the areas in front of the locker rooms, Aquatics office, or emergency medical equipment. These areas serve as evacuation pathways. Lifeguards will always be vigilant in maintaining a clear pathway.

First day of lessons is to assess children in the appropriate level. Any questions and concerns may be directed to the instructor after class.

Lifeguards will blow two short whistle blasts to start and end lessons. ONE LONG whistle blast indicates an urgent situation. EVERYONE will exit the pool and pool deck if instructed by the Lifeguard.
Can I cancel my swim lesson registration?
We understand that a situation may arise that requires you to change your swim lesson plans, listed below are a few guidelines to follow:
If you are requesting a credit/cancellation at least seven days before, you may call our Upland facility at (909) 946-6120 or our Chino facility at (909) 597-7445 and request a credit or cancellation refund over the phone and one of our membership staff associates will begin the request process for you. As an alternative, you are also welcome to come in person to one of our membership offices at either location and request a credit or cancellation refund. You may request a credit or refund (up to 100% of the fee) for a situation that prevents the participant from continuing with the intended program, (i.e.: medical condition, moving, loss of job, etc.). Credits and cancellation refunds are given on a case-by-case basis and are subject to the discretion of the Aquatics Director.  Swim Lesson registrations purchased by credit card will be refunded back to the original card account. Refunds for registrations paid by cash will be issued a refund check in the mail.
If you are requesting a credit/cancellation refund AFTER the first start date of the entire swim session, it is our association's policy to have a certified physician's note that specifically states that the participant has  been EXCUSED FOR THE REMAINDER OF THE SWIM SESSION (more than 7 days remaining in the session, and not less than 5 days remaining) and CANNOT CONTINUE THE SESSION, due to the fact that excessive physical activity could result in potential harm to the swimmer or would impose significant delay in healing. (i.e.: broken bones). For security purposes and confidentiality, we cannot accept credit or refund cancellation requests via email or over the phone. Please visit one of our facilities in order to proceed with the request, along with the above stated documentation. Credits and cancellation refunds will not be given due to vacation or personal days taken.
My child missed a day of swim class, can I get a make-up class or a credit for that day?
Unfortunately, we cannot give you credit for day(s) missed in group swim lessons and we are unable to allow make-ups for the class on another day or time due to pre-determined pool availability There are no exceptions.
Can I move my swim time/day registration?
Before the session start date, you may request to move your class freely to another open class. Please ask our membership sales staff or call our Upland facility at (909) 946-6120 or our Chino facility at (909)597-7445, and we can move your class over the phone. After the first week of the session start date, we can no longer move students to different times or days.
What happens in the case of a pool closure?
In the case of a pool closure, classes may be modified accordingly. If possible, our experienced instructors will run water safety and dry land drills that are parallel with the YMCA of the USA curriculum. In the instance of a power outage and/or lighting/thunder, our swim lessons will be canceled for safety reasons. We are unable to offer make-up classes or credits for these occurrences.
Will there be swim class on holidays?
On holidays, where any of our facilities are closed or have modified hours, we do not have swim lessons. Under usual and customary operating hours, swim lessons typically proceed as planned. Please visit our facility hours on our website at weymca.org for a list of all holiday closures or call the membership sales desk at our Upland facility at (909) 946-6120 or our Chino facility at (909) 597-7445.
I am starting after a session has already began; can I get a prorated price for the session since I'm starting later?
No, we do not offer prorated session prices. Although, you may enroll at any time during the session, we do not prorate the cost. We hope that this encourages all swim participants to register for swim lessons on time.
What swim lesson stage should I sign up for?
Please use our swim lesson selector below to help determine in which stage to register. If you are still having trouble determining a swim lesson stage, please come to either of our facilities on Saturday afternoon at 1:30 p.m., and one of our qualified staff members will assess your students' swim skills in the water.